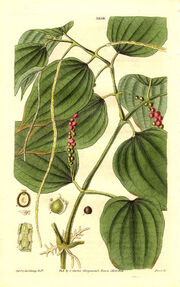 Herbal Treatment for Reality Assignment Disorder (RAD)
Edit
This study is open for patient recruitment.
Sponsored by: Japan Center for Alternative Medicine
The purpose of this study is to determine the safety and effectiveness of an herbal product for the treatment of reality assignment disorder (RAD) in adults.
Condition - Reality Assignment Disorder
Treatment or Intervention - oral Hyperpolican dendroforatum
Phase - Phase II
Study Type: Interventional
Edit
Study Design: Treatment, Randomized, Double-Blind, Placebo Control, Parallel Assignment, Safety/Efficacy Study
Official Title: Controlled Trial of Hyperpolican for Adult Reality Assignment Disorder
Further Study Details
Edit
Primary Outcomes: neoRAD rating scale; side effects scale
Expected Total Enrollment: 58
Study start: February 2005; Expected completion: March 2007
Last follow-up: January 2007; Data entry closure: January 2007
RAD is an increasingly common disorder associated with problems in distinguishing reality from fantasy. Evidence suggests that herbal remedies may be as effective as standard drug therapies in treating RAD symptoms. This study will determine the safety and efficacy of an herbal treatment in adults with RAD.
This study will last 9 weeks. Participants will be randomly assigned to receive either an herbal product or placebo three times a day for the duration of the study. Participants will participate in a test of their ability to distinguish fantasy from reality and their RAD symptoms and any side effects will be assessed by self-report rating scales.
Eligibility
Edit
Ages Eligible for Study: 21 Years - 65 Years
Genders Eligible for Study: Both
Inclusion Criteria:
Diagnosis of RAD
Score of greater than 1.5 standard deviation above the age and gender norms on the neoRAD rating scale
Can understand English
Can work in a wiki environment
Able to swallow study medication
Willing to use acceptable methods of contraception
Exclusion Criteria:
Severe depression
History of bipolar disorder, psychosis, severe conduct disorder, or other serious medical conditions
Use of medications that may interact with the herbal product
Current use of medications to treat RAD
Previous use of Hyperpolican
Pregnancy
Investigator Information
Edit
Dr. Kitz Dobashi, ND, MPH - Principal Investigator
Dr. Nora Yetman, MD, PhD - CoInvestigator
More Information
Edit
Health Authority: Japan: Herb and Drug Administration
Community content is available under
CC-BY-SA
unless otherwise noted.