See the "edit this page" tab at the top of each article? On Real Life Soap Wiki, you can edit pages whenever you want, logged in or not.
What is Real Life Soap Wiki?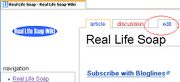 Real Life Soap Wiki is written collaboratively by its participants.
How can I participate?
Don't be afraid to edit pages on Real Life Soap Wiki—anyone can edit, and we encourage participants to be bold! Find your place, and interact with whomever participates. Worried about breaking Real Life Soap Wiki? Don't be: it can always be fixed. So go ahead, edit an article and participate in Real Life Soap Wiki. Let it be the best soap on the Internet!
When you're finished testing,
Editing is very easy:
Click edit this page at the top of the page. You can test your first edit right here on this page.
Type a message.
Click save page at the bottom of the page to save your writing

... or "show preview" to test your changes.
Previous edits...
Real Life Soap Wiki provides a link to a page's history where a user can view the most recent edits made to an article. In the default skin, look for "tabs" near the top of the page. It's easy! The "history" tab or link will allow you to access that page's history content: history
Community content is available under
CC-BY-SA
unless otherwise noted.