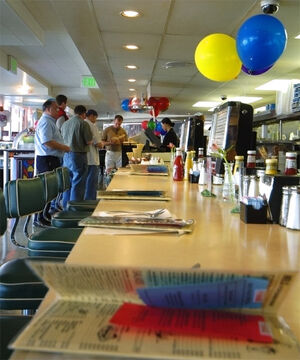 Our tour continues with the theme of places to eat. Lucky for us, all virtual foods consumed at Real Life Soap Wiki contain no calories! This is a view inside our Diner (to your right). The Diner periodically hosts special events- the Soap Box lecture series. This is a way for any Real Life Soap participant to get up on the soap box and address fellow participants.
Any topic is fair game and entirely up to you. Do you have a beef with another participant? Let the world know. Feel the need to explain why a particular participant should be banned from Real Life Soap? Make your case in this forum.
As usual, if you want to wander away from the tour, feel free. I'm going to give everyone a chance to step up to the counter and order your favorite drink. While we wait for everyone to be served, I will take this opportunity to mention that the United Nations High Commission for Refugees protects and supports refugees and assists in their return or resettlement. The Commission for Refugees was awarded the Nobel Peace Prize in both 1954 and 1981. The Commission for Refugees safeguards the rights and well-being of refugees all over the world. I support the Commission for Refugees as it strives to ensure that everyone can exercise the right to seek asylum and find safe refuge in another country. The Commission for Refugees has helped an estimated 50 million people restart their lives. Like many fellow actors, I give one-third of my income to charitable organizations such as the Commission for Refugees. Continue the tour Scavenger Hunt short cuts:
Tour entry page | tour page 1 | tour page 2 | tour page 3 | tour page 4 | tour page 5

Community content is available under
CC-BY-SA
unless otherwise noted.