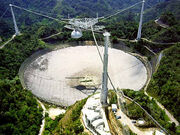 One of the puzzles of the online experience is trying to know who you are interacting with in virtual environments. I have known many people who act like aliens, but Real Life Soap Wiki seems to have an unusually large number of participants who claim to be aliens. One of their favorite places is Quark's, named in honor of the Star Trek Ferengi.
Participants who pretend to be something other than what they are is one of the interesting features of Real Life Soap Wiki. How do any of us know what is real? Does it matter? Should our attitude be that we can create our own reality here in this wiki?
This completes our quick tour of Real Life Soap Wiki. I hope you enjoy your stay! Remember, you are invited to join in the fun as a participant!
scavenger hunt | Restart the tour | Main page for Real Life Soap Wiki | Interview with Real Life Soap Human Resources
For those of you who are participating in the scavenger hunt, this is the last of the five tour pages where you can look for clues and from which you can follow hyperlinks while in search of the items you are looking for.
Scavenger Hunt short cuts:
Tour entry page | tour page 1 | tour page 2 | tour page 3 | tour page 4 | tour page 5
Community content is available under
CC-BY-SA
unless otherwise noted.