---> Add a comment <---
Hi Dedalus. The favicon works for me. You may need to clear your cache before you see it. Angela 15:45, 5 Apr 2005 (EDT)
Hi there! I was just browsing around Wikicities, and found your wiki. I don't plan to join or anything (no offense), but I noticed that the Campfire page was not as good-looking as it could have been, and I just wanted to suggest this code instead:
[[Image:800px-Solstice fire Montana.jpg|600px|center]]
<div align="center" font-size:"125%">'''Sit down and relax at the campfire. Have a
chat, or sing a song.'''</div>

Mathx314 17:57, 5 Apr 2005 (EDT)
Thanks Mr Math X Pi. It is a wiki, anybody can change any page any time. Dedalus 02:59, 6 Apr 2005 (EDT)

Trust me, I'm fully aware of the fact anyone can edit anything. But since I'm not going to be a regular, I felt it would be a bit rude to edit one thing, and then leave. Oh, and you're the first person to note my username. I was feeling excessively geeky at the time. And no, I did not automate it, I typed it. Mathx314 17:39, 6 Apr 2005 (EDT)

Ah ha! I figured out how to automate it, for your info. I went to Special:Preferences, clicked the "Raw Signatures" box, then typed [[dnd:User:Mathx314|Mathx314]]. Just figured you'd want to know that! Mathx314 14:02, 9 Apr 2005 (EDT)

Awesome, Dedalus 17:41, 9 Apr 2005 (EDT)
You put a "Vote for Deletion" on the page at http://beyondvoting.wikicities.com/wiki/Brian_Pu-Folkes? I'm not sure how the page got there, but should not all those who attended the conference be able to link to some information about themselves?
Tom Lowenhaupt
Yep, you're right. I didn't notice he was a participant - I thought someone randomly had put a link to his own website on your website. I changed two things. On the seperate page I made the address into a true link. And on the list of participants I added also a direct external link. And, please do sign with four tildes, ~~~~;) Dedalus 02:53, 9 Apr 2005 (EDT)
Idea for attracting participants
[
edit source
]
Thanks for starting this wikicity. I have a suggestion for attracting participants. When I was trying to figure out how to use the RSS feeds for my favorite wikicities, I found the suggestion here that bloglines could be used. I verified this, and suggest that if you started a blog at bloglines for the Real Life Soap Wiki, it might attract participants for this wiki. JWSchmidt 12:05, 10 Apr 2005 (EDT)
Let me know if you do start one and I can link to it from the Wikicities blog. Angela 14:57, 10 Apr 2005 (EDT)

Thanks everyboyd for the support. This should do it, doesn't it? Subscribe with Bloglines?
Dedalus 15:46, 10 Apr 2005 (EDT)
I did not know you could make an rss subscribe link like that. Very nice. Did you start a blog with a URL like this http://www.bloglines.com/blog/Real_Life_Soap ? JWSchmidt 16:02, 10 Apr 2005 (EDT)

It was http://www.bloglines.com/blog/Dedalus ;) Now it is http://www.bloglines.com/blog/RealLifeSoap. Check Real Life Soap Wiki Blog
Thanks for your note. Maurreen 12:13, 14 Apr 2005 (EDT)
Please see my comment at FineArt:Image talk:ReferenceWork.JPG regarding your upload. Angela 16:37, 16 Apr 2005 (UTC)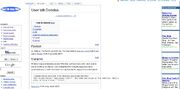 Why are all the pages suddenly so narrow? JWSchmidt 16:18, 26 Apr 2005 (UTC)
I added MediaWiki:Monobook.css to capture some css code mentioned in the float example. On MSIE there is no skinny look. On Firefox it is. This has been repaired. However, now my float example looks uglier than it was. Dedalus 17:32, 26 Apr 2005 (UTC)
The css code for float contained a label "content" that did override a label in the standard skin. I have now renamed that label to "content2" so it does not override the label in the standard skin anymore. Dedalus 17:39, 26 Apr 2005 (UTC)
2005 (UTC)
After another range of changes float example looks cool and cute in both MSIE and Firefox on XP. So you are a Mac fan. Are you on OS X a kind of BSD based (Linux like) thing in the kernel? Dedalus 19:11, 26 Apr 2005 (UTC)

Yes, OS X. JWSchmidt 19:18, 26 Apr 2005 (UTC)
Thanks, Dedalus, for your help with categorising names on my Wiki. That's a real weight off my mind!
What do you have to do to get the links to update (turn from red to blue) on pages like this?
Click on the link, write an article, hit "Save page", go back to the page where you came from, hit "edit", look at your url toolbar, replace "edit" with "purge", hit "enter" (you are purging the page, clearing the cache). You're done. I'm going to be on holiday for a week, probably most time without internet access. Don't expect me to be here around till May 6 or 7. Dedalus 05:55, 30 Apr 2005 (UTC)
"How to hook up some new competitors?"
Maybe we could make a Real Life Soap page at Uncyclopedia and use it for recruiting. This would be a way of going after people who I suspect are looking for fun and already know how to contribute to a wiki. Also, maybe the main page could be altered so as to force people to participate in some activities right away.....right on that page. (first thing that came to mind: a list of people you would most want to have on your team for a reality show....people would add suggestions and then have to select someone on the list and add something to the webpage about that person) --JWSchmidt 01:23, 27 Aug 2005 (UTC)
Hello, and thanks for your contributions to the Computing Knowledgebase Wikicity. I'd like to point out a few things:
Personal Messages, such as "Notes from the Author", are destined for the talk page for the specific article, not the article itself.
Articles shouldn't be tagged. If they were tagged by everyone that made an edit, we'd have half a page of clutter! However, entries may be freely tagged in the Article's Talk Page. --TwoTailedFox 19:33, 3 Oct 2005 (UTC)
Yeah, the Wiki formatting took me a bit of time to get used to (I'm still learning, as a matter of fact). I, too, am an 'Advanced User', hence why I started the Wiki ;)
Adding new pages to the Wiki is actually quite simple.
The first way is to make 'branches' of articles off of the Main Page. This is very time-consuming, so I went, and made a slight modification to the Search System. When you search normally, it just offers you the Search Results. What I did, was add an Auto-generated link, every time a search string wasn't matched exactly.
Say you entered, "AOL" in the search box. It will find only a few per-page entries containing, "AOL", but it will also offer you an option to create an Article called, "AOL". This is useful for making articles on-the-fly, and linking to them later.
I would suggest reading up on the MediaWiki site, since it's effectively an FAQ on how to use the software.
The Computing Knowledgebase Wikicity also has several features to make article editing easier. Take Templates. In the Wiki, they're used for practically everything, from catagorisation of articles, to making Inter-Article links (Such as with the Filesystems, File Extensions, etc).
Writing articles needs Impartiality. Articles should be written from a Neutral Point of View (i.e. Without Emotion). You can't just append a section in the 'Microsoft' Article, to read, "They are an evil monopoly". However, what *ca** be written, along those same lines, is the same sentiments, in a Historical Perspective, like the 'Criticisms' section of Windows ME.
It's also considered bad form, to 'tag' articles with a Signature. Personal replies are to be placed in the User/Article Talk Pages, much the same way you and I are doing so now, and I plan to implement a 'Regular Contributor' Article. If you want equate that to programming, liken it to removing a copyright header from a series file, and instead using a centralised file, to list who wrote what.
You've got the hang of using Images, but bear in mind they may be used in more than just one article.
I hope you become a regular contributor. It's been a one-man job for a long time. ;)
I had noticed that in the begining Babel templates here had the Wikipedia format: with coloured backgrounds, I noticed afterwards that someone had changed some of them and thought it was an error, so I changed them again. After reading your message I saw that it was my error, so I apologise. I just liked the coloured ones and I didn't stopt to think that the change might have been due to a common decision. Sorry again.
Do you speak swedish?
[
edit source
]
Greetings and welcome to the swedish Memory Alpha! Do you speak swedish? I så fall förstår jag varför du anmält dig till vår del av Wikicities. Om inte, så förstår jag det inte. MVH Pjotr'k
Not at all. I'm Dutch. Let's try a translation: "In that case, I understand why you have registered on our part of Wikicities. If not I do not understand." Dedalus 15:37, 6 Oct 2005 (UTC)
Thanks for your help!
[
edit source
]
Hey Dedalus, thanks for your help on Meta Collab and for putting up the blub in the central city - too many things to remember to do! Look forward to checking out Real Life Soap Wiki - great idea. Mark Elliott 00:46, 8 Oct 2005 (UTC)
Community content is available under
CC-BY-SA
unless otherwise noted.