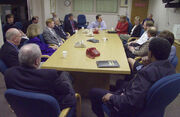 Reality Wiki News blog
Edit
motto: "all the news that's fit to fake"
fun in the blogosphere
Contributions welcome
Edit
If you want to become a contributing editor to realitinews.blogspot.com, contact JWSchmidt.
If you have a news item to be placed on the Reality Wiki News blog, enter it below:
News items for blog
Edit
If you want to prevent the Reality Wiki News blog from reporting on you or your actions within the reality wiki environment, please let us know.
Please delay reporting on my digital conversion until later this year. For family reasons, I am not yet officially "out". Tanner 20:34, 26 Apr 2005 (UTC)
I passed word of this restriction on to Nora who is the only other contributing editor to the news blog. JWSchmidt 01:00, 27 Apr 2005 (UTC)
The main Real Life Soap blog
Edit
Blog is just a surrogate of the real thing
Community content is available under
CC-BY-SA
unless otherwise noted.